Dog Love is a definite mom soul soother.  I learned this firsthand from becoming a dog mom late in life, more out of necessity than want.  To be clear, I considered myself far from a dog lover before Cali, our yellow lab, came home to us.  Fear and heartbreak deterred me from approaching, let alone loving a dog.
First, came the fear—an unanticipated run-in with a German Shepherd at the age of five.  From out of nowhere, the dog leaped on me and I fell backwards into the mud.  I can still remember to this day staring into those fierce eyes, my mind echoing all sorts of frightening scenarios to my heart, mostly about what part of me the dog would eat first.  I ended up a short while later at the hospital enjoying seconds on the trauma in the form of a tetanus shot even though the German Shepherd didn't bite or so much as take a nibble.
The dog most likely just wanted some love.
Then, came the string of dogs as pets when I was a child…and the heartbreak.  Saint Bernard.  Poodle.  Even a German Shepherd puppy.  But trauma still happened.  The poodle was hit by a car.  The Saint Bernard given away to a local farmer, and the German Shepherd only nipped at my legs not my heart.
And so, I detached from dogs.  Smothered any inkling of love for them with fear and sadness.
Dog Love, however, remained destined to find me, and it arrived through my daughter, Summer.  Diagnosed with autism and selective mutism, my husband and I wanted to help her connect.  And, sure enough, when we brought Cali home Summer sparkled, excited beyond the words she couldn't yet speak.  For her, this was Dog Love at first sight.
For me, it looked like a lot of work.  Indeed, this puppy rivaled my journey with Summer through infancy:  the begging eyes, the cleanups, the feedings, the overwhelming need.  Sheer exhaustion accompanied Cali, and a part of me resented the added responsibility.  More to the point, I wasn't ready to dive into my complicated emotional history with dogs.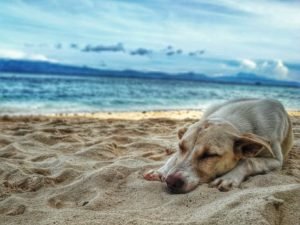 But Cali seemed intent on awakening Dog Love in me, and she did so through her budding relationship with my daughter.  Cali connected with Summer in a maternal way.  For example, one day my husband took Summer along for Cali's dog wash.  Unbeknownst to Cali, Summer's uncle picked her up during the washing.  When my husband then left with Cali, she trembled and barked, upset.  On the ride home, Cali frantically searched for Summer, and upon arrival to our house, she combed every area using all of her keen senses.   When she couldn't find Summer, she rested near the door in defeat, whining all the while.  Only Summer's return calmed her, as she licked and loved her with relief.
These instances stockpiled.  Indeed, when Summer grew ill and Cali stayed bedside with us all night, offering support, I couldn't deny my feelings anymore.  Cali had chiseled away my deep-rooted emotional barriers.  Fear…I couldn't find it.  Sadness…where did it go?  Instead, this wondrous thing called Dog Love took up residence in my heart, and I extended it freely to Cali.  A dog hug and a belly rub became my everyday staples for soothing my soul.
Furthermore, when I went to dog parks, I didn't cower.  Not even when I saw German Shepherds.  And when I took my evening walks, I approached dogs and their owners, chatted, and petted their dogs with a willingness to connect.  Somewhere along the way, I had become a true dog mom, and I loved it.
Through my rich journey with Cali, this is the most beautiful thing I've learned…
Love showed up for our family in the form of a dog.
Wishing you a Dog Love moment today.
Pin to Pinterest to Keep this Post Close
Join Mom Soul Soothers
Subscribe to Mom Soul Soothers to keep up.  Share a post if it speaks to your soul.  And if you know a woman who needs to be soothed, please send her this way.
Your moments here matter to me.  Warm wishes and gratitude…always.